Originating in the self-governing city of Sakai, Japan's traditional scented senko, or incense sticks, have now grown into a fragrant work of art.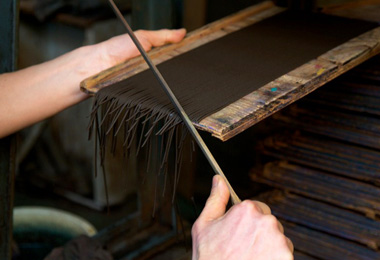 Japan's first senko sticks were made in Sakai
There are various theories as to when manufacturing of senko sticks started in Japan; however, it is certain that their manufacturing method had been introduced from China and that by the 16th century they were being manufactured in Sakai.
In those days, Sakai was a self-governing city and home to Japan's largest trading port with overseas countries. Business was so flourishing that a foreign missionary wrote, "This city is large and rich, and prospers as a center of commerce like a market where people around the world steadily come and go."
Sakai became the center of senko production partly because it had easy access to the ingredients of senko sticks from overseas countries and is home to the third highest number of Buddhist temples in Japan, next to Kyoto and Nara, being referred to as the "Buddhist Capital of Sennan."
Senko made in Sakai, characterized by the blending of carefully selected natural ingredients, are called a fragrant work of art. In the midst of a fragrance boom, the effects of its natural fragrance attract attention as an indoor aromatic or for medicinal purposes.
Main ingredients of senko sticks
Agalloch (jinko/kyara)

Agalloch is an evergreen tree in the Thymelaeaceae family found in Vietnam, Indonesia and Malaysia. The tree itself is not fragrant, but after an old tree is cut down and left alone or buried in the ground for a few years, the resin that remains without decaying is called jinko and the finest part is called kyara.

Sandalwood

Sandalwood is an evergreen tree in the Santalaceae family found mainly in India. The heartwood of sandalwood has been used as an ingredient for perfumes and the outside part used as a material for Buddhist images and other carvings from olden times.

Borneo camphor

Borneo camphor is an evergreen tree native to Borneo and Sumatra. It is characterized by its elegant, refined, and refreshing scent. It is used for medicinal purposes, and as an ingredient in insect repellents and aromatics.

Clove

Clove is found in India, Indonesia and the Philippines and on the east coast of Africa. Dried buds of clove are used in aromatics and for medicinal purposes and also popular as a spice.
Cinnamon

Cinnamon is an evergreen tree in the Lauraceae family that is found in China and the Indochinese Peninsula. The dried inner bark of the cinnamon tree is used for aromatics and as a spice.

Illicium verum (Chinese star anise)

Illicium verum is an evergreen plant in the Magnoliaceae family that is native to limited regions from the northern part of the Indochinese Peninsula to southern China. It is used for aromatics and as a perfume oil.

Tabu (Machilus thunbergii)

Tabu is an evergreen tree in the Lauraceae family that is found mainly in Kyushu, Japan as well as China, Taiwan and Thailand. Its powdered bark, called tabu powder, is used as an adhesive in senko sticks.