Sakai's carpets originated from Sakai's Dantsu Carpets, created by a braid dealer in the 19th century.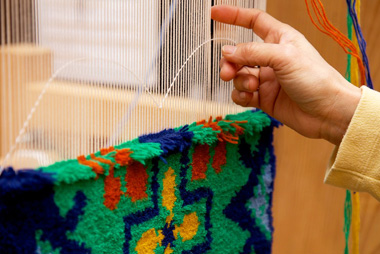 Sakai's Dantsu Carpets and Rugs
It is believed that the carpet industry in Sakai originated from Sakai Dantsu Carpets, which were created in 1831 by Fujimoto Shozaemon, a braid dealer, by modeling after China Dantsu carpets and Nabeshima Dantsu carpets.
In 1877, Fujimoto Sotaro, a grandson of Shozaemon, exhibited Sakai's Dantsu carpets at the first domestic industrial exhibition, making Sakai's Dantsu carpets famous nationwide.
Production of carpets in Sakai grew from only 120 tatami mats in the 1830s to 891,225 tatami mats in 1895. After that, Sakai's carpets accounted for the largest share of exports in Osaka Prefecture, playing a major role in bringing foreign currency into the country.
In the early 20th century, rag rug, yarn rug, hooked rug and other rug types gained popularity, and from the mid-20th century, tube mats, Wilton carpets and tufted carpets became mainstream and Sakai achieved national recognition as the Kingdom of Carpets.
Currently, in response to various needs, a wide variety of products are created by developing new materials and automating and computerizing production processes.
Carpet types
Wilton Carpet

This was created in Wilton, England in the mid-18th century. It rapidly became widespread after the Jacquard loom (a loom allowing automatic patterning) in the 19th century. Pile yarn is woven with warp and woof in several layers, making the carpet dense and thick.

Tube Mat

It is believed that this was created in Kawabe-gun, Hyogo Prefecture in 1922. It is made by using recycled fiber as the core and sewing in threads like electric cords. Either side can be faced up. It looks heavy and is resilient.
Hooked Rug

This was first produced around 1927 mainly in Kobe. It is made by weaving pile yarn into the base fabric with an electric hook gun using principles from embroidery. Since it is basically handmade, delicate patterns, which cannot be made by machine, can be created. Recently, advances in robot technology have made it possible to make hooked rugs by machine.

Tufted carpet

This is made with a productive method of lining the base fabric by weaving pile yarn into it with a few thousand sewing needles. Initially, patterning was not easy; however, technical issues have been solved to produce patterned tufted carpets. Mass production started around 1955.